Deepti and Tom run a Half Marathon for Thomas Edward Mitton House
On Sunday 7 April 2019, my colleague Tom Lax and I braved the grey skies to run 13.1 miles to raise money for Thomas Edward Mitton House, part of the Disabilties Trust.
We raised an incredible, £940.75 thanks to friends, family and colleagues that supported us.
What is Thomas Edward Mitton House?
Thomas Edward Mitton House (TEM) is a specialist brain injury rehabilitation centre based in Milton Keynes.
Individuals who have suffered an acquired brain injury or a stroke can be transferred to the centre from hospitals all over the country to receive important rehabilitation.
As I live close by, I had the pleasure of visiting the centre earlier this year and had the opportunity to meet with members of the team and understand more about the rehabilitation provided.
I learned that at TEM, individuals have access to specialist therapies and organised activities which are designed to help maximise the chances of recovery.  This includes physiotherapy, speech and language therapy and other activities such as arts and crafts, organised games afternoons and friends and family sessions, all designed to stimulate the brain.
TEM also has transitional living units and supported housing available for those individuals who have reached a level of independence and are almost ready to go home and integrate back into the community.
It was really interesting to see how the living units had been carefully adapted to assist individuals to continue their rehabilitation in a community environment with guidance and support.
Why did we raise money for TEM?
Rehabilitation is so important to help to minimise the long term effects after a brain injury.
Those who have suffered a brain injury or stroke can sadly be left with ongoing cognitive, behavioral or physical impairments.
Rehabilitation can help stimulate the brain to learn new ways of working after an injury and the evidence suggests that rehabilitation can have the most significant impact within the first two years.
This makes TEM's work incredibly important.
They have the ability to make a huge impact on the lives of the individuals that are transferred for rehabilitation and I really wanted to support the fantastic work they do.
How I found running a half marathon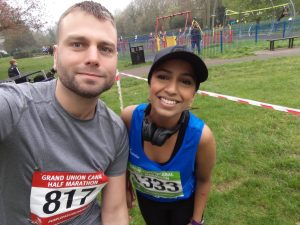 Deepti Patel and Tom Lax from Bolt Burdon Kemp ready to run
Having only ever run a 5 kilometre race, I thought it was high time to step up my training, push my fitness levels and raise much needed funds for TEM.
Training was tough. Really tough.  And the day itself was even harder.
The race was called the Grand Union Canal Spring Half Marathon.  This followed a canal route from Uxbridge all the way through to the finish line in Cassiobury Park in Watford.
At the starting line, there were around two hundred runners and the atmosphere was really great – all excitement and high-energy.
The race began and we adopted a slow, steady pace taking in the beautiful canal views and passing fishermen, dog walkers and even horse riders along the way.  But the path was gravelled and bumpy and there was a hill to face at the end of every mile which made the run even more challenging!
In the end, Tom finished in an incredible 1:56:54 and I finally crossed the finish line in 2:32:54.  My time was longer than I had hoped for but I can honestly say that I am absolutely thrilled to have a half marathon under my belt.
Is a full marathon on the cards?
I found the half marathon extremely challenging and I don't think I can set my sights on a full marathon in the near future!
However I am really glad to have had the opportunity to raise this money for TEM and I hope that this will help to make a difference.  I look forward to working with them more in the future.
Deepti Patel is a senior solicitor in the Adult Brain Injury team at Bolt Burdon Kemp.  If you feel you may have a claim or are enquiring on behalf of a loved one, you can contact Deepti free of charge and in confidence at deeptipatel@boltburdonkemp.co.uk.  Alternatively, complete this form and one of the solicitors in the Adult Brain Injury team will contact you.  Find out more about the Adult Brain Injury team.