Light up the Night 2020
As night fell over the River Thames on the evening of Wednesday 5th February I marched across Millennium Bridge with the aim of shining a light on sexual abuse and sexual violence.
The Light up the Night event has taken place every year since 2018.  It is part of the annual Sexual Abuse and Sexual Violence Awareness Week, which ran from 3rd to 9th February 2020 and brings together organisations and communities to raise awareness of these two critical issues.
The aim of the #ItsNotOK event is to show solidarity with victims, inspire others to speak out about their trauma and to unite us all in the acknowledgment that sexual abuse and all forms of sexual violence are unacceptable.  Glow sticks in hand, we walked across the bridge chanting "light up the night for victims of sexual abuse".
The event organisers wrote on Facebook of the event: "Join us as we shine a light on sexual abuse and sexual violence by lighting up the Millennium Bridge in solidarity with survivors."  Those who turned out in support included The City of London Police and supporters of charity Survivors UK.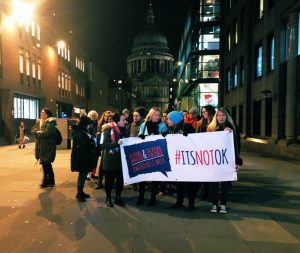 Supporters for the Light up the Night, #ItsNotOk walk
Although we were all freezing due to the cold weather, the atmosphere on the night was warm and uplifting.  It was such a nice feeling to know that there are people who will continue to fight for an amazing cause and it's inspirational to see people from all walks of life come together to raise awareness.  Any form of sexual abuse or sexual violence is unacceptable, it's important to talk about it so we can tackle the issue.  Many of my clients are affected by this and consequently deal with trauma.  We must never stop raising awareness for them and for people across the UK.  If we do, we are failing so many people who suffer in silence.
In order to mark the awareness week Bolt Burdon Kemp hosted a drinks reception for Survivors UK to mark their new addition to the Independent Sexual Violence Advisor team, Lyla Smith-Abass, whose post is being funded by Bolt Burdon Kemp.
Whilst the awareness week is over, you can still show your support and raise awareness by:
Printing and completing this poster and uploading the image to your social media accounts
Follow and/or use the hashtag #itsnotok so you can tell thousands of people across the UK that survivors of sexual abuse will be believed and supported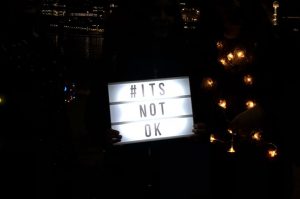 #ItsNotOk signage