The APIL ACAL Abuse Conference 2019
On Friday 5th July, I had the good fortune to be attending the annual conference put together by the good people at both ACAL – the Association of Child Abuse Lawyers and APIL – the Association of Personal Injury Lawyers.  Every year the conference comes together for the purpose of sharing information, experience and legal updates on the key issues facing solicitors who act for victims of abuse.
I found myself lucky enough to be sitting next to Maria Ruegger at the conference.  Maria is an expert witness in the field of social care and she has produced numerous expert reports for this firm relating to the failures by local authority social services in protecting children under their care.  It was great to exchange experiences and her empathy for the children she reported on was clear.
The conference started with us being welcomed by David McClenaghan, partner at Bolt Burdon Kemp and the Head of our Abuse department.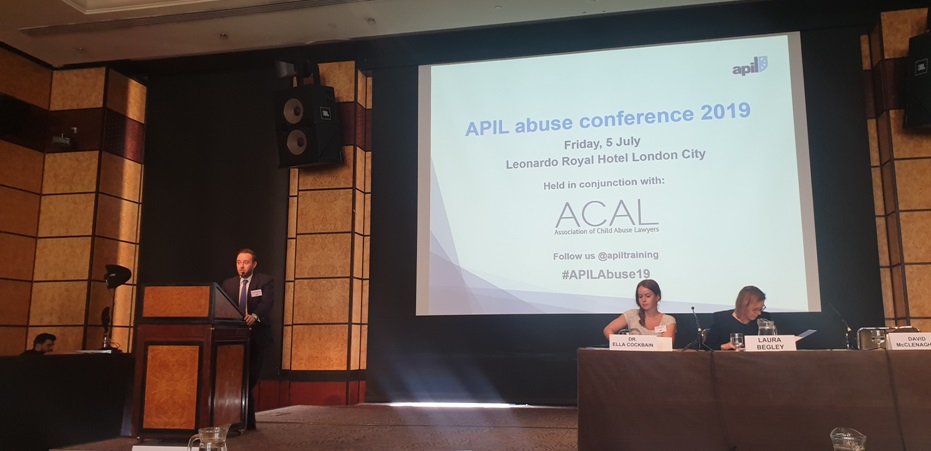 David McClenaghan, Partner at Bolt Burdon Kemp, opening the APIL ACAL Conference
Following David on the podium was Dr Ella Cockbain, Lecturer in the Department of Security and Crime Science at University College London.  Dr Cockbain gave the opening address to the conference, focusing on how "grooming gangs" are misrepresented in the mainstream media and exposing some of the myths about how grooming children actually works.  Dr Cockbain spoke eloquently and I hope that defendant lawyers and also judges get to hear the same talk, as frequently when defendants respond to claims, they raise the issue of whether or not a child had "consented" to sexual acts – particularly in scenarios where the grooming does not fit a straight forward pattern.  Dr Cockbain's fascinating talk exposed how the reality is that the grooming process is often complex and messy and rarely straightforward and how there is often a complex interplay between different pressures in the grooming process.
We then heard from Laura Begley, a barrister from 9 Gough Square.  She has a great deal of experience representing abuse victims in appeals to the Criminal Injuries Compensation Authority (CICA) and she gave us a whistle-stop tour of the latest case law to come from the CICA tribunals.  The highlight of this was the news that the "same roof rule" had been abolished with retrospective effect.  This was a rule that previously prevented survivors of abuse from bringing a claim if their abuser had lived with them as a family between 1964 and 1st October 1979.  In order to support this development a dedicated team had been set up at the CICA to process any applications from people who had been turned down from the CICA in the past due to this rule.  I applaud this development, which serves to right an injustice in the CICA's Scheme.  The key point for victims and survivors who have previously been prevented from claiming is to be aware that there is a fresh two year time limit, starting from when the change came in to effect on 13th June 2019, within which they must bring their claims – the clocks have already started ticking, so do not delay!
Professor Erika Rackley, from the University of Kent, then spoke about the psychological impact that image based sexual abuse can have on people as well as talking about how terms like "revenge porn", whilst very common in the mainstream media, are often very unhelpful (and sometimes harmful) in accurately describing the events that take place.  The key point I took from Professor Rowley's talk was that survivors of image based sexual abuse often don't know that using civil lawyers is an option – but often it is the civil law is best placed to help them achieve their needs.  Anyone affected by image based sexual abuse can view our campaign on this subject.
The last speakers before the mid-point of the day, Caoilfhionn Gallagher QC and Richard Scorer, gave very interesting talks updating the conference on the progress of the specific parts of the Independent Inquiry into Child Sexual Abuse (IICSA) that they were involved with.  It is clear that this inquiry is not without flaws, but is nonetheless making good progress.
In the afternoon we had perhaps the most eagerly awaited talk of the whole conference – barrister Iain O'Donnell's update and discussion on the Supreme Court's decision in CN v Poole.  This was a judgment that pretty much the entire profession had been waiting for with baited breath.  The outcome is not entirely disastrous for survivors, as the law is clear that it is still possible for survivors to bring claims against local authorities' social services departments for failing to remove them from abusive homes.  However, in order to succeed in such a claim, a claimant must now prove that social services performed some action towards them that indicated that they had "assumed a responsibility" for the claimant before there can be any question of the local authority being held responsible for their failures.
This has led to the absurd situation where a local authority is better able to defend a claim that it failed to investigate allegations of abuse if it factually took no steps at all compared to a situation where it took steps to investigate the allegations but failed to do so adequately.  This cannot be right and I expect that this issue is not yet settled and there will be more case law to come on this topic.
For the final talk of the day, we heard from experienced abuse law barrister Justin Levinson updating us on the key case law decisions (other than CN) from the past year, which included two cases that I actually worked on together with Justin, both of which were heard at the High Court of Justice.  The first of these was LXA & BXL v Willcox & Anr, where we secured victories against abusive adoptive parents in the sum of £115,000 for LXA and £186,000 for BXL.
The second case was FZO v Andrew Adams & Anr, where our client was awarded over £1.1 million in damages, making it the largest ever award for damages in a civil claim for abuse in England and Wales.
As well as refreshing ourselves on a lot of important parts of our work, the conference proved to be a great way to (re)connect with all of our fellow professionals.  We know that we all work hard for survivors of abuse but I think it is very important and often inspiring to put some time aside to remember this.  It certainly helps me feel better to know that there are so many great minds who are so dedicated towards making the world a better place for survivors of abuse.
Joseph Carr is a senior solicitor in the Abuse team at Bolt Burdon Kemp.  If you feel you may have a claim or are enquiring on behalf of a loved one, contact Joseph free of charge and in confidence on 020 7288 4807 or at josephcarr@boltburdonkemp.co.uk.  Alternatively, complete this form and one of the solicitors in the Abuse team will contact you.  Find out more about the Abuse team.