UK car seat law – time for an update?
Before joining the Child Brain Injury team at Bolt Burdon Kemp, I worked in retail for five years while I was studying.  I was trained to advise and fit child car seats and during this time I realised that the law governing child car seats is incredibly confusing and consequently, many parents lack awareness about car seat safety.
As part of the Child Brain Injury team at Bolt Burdon Kemp I act for children who suffer brain injuries in accidents (as well as medical negligence).  Some of our clients are injured in road traffic accidents where they have not being properly restrained in their car seat and this has contributed to the extent of their injuries.  My colleague Cheryl Abrahams has previously written about car seat safety, highlighting the sad case of Hughes v Williams & Williams [2012] EWCH 1078, which involved a three year old girl who was travelling in a high back booster seat, despite the seat not being appropriate for her age, weight and height.  The child in this case sustained life changing brain injuries for which her mother was found to be 25% to blame because she placed her in a car seat that was inappropriate for her.  Cheryl has also written about her own experience of her daughter's car seat being fitted incorrectly in the following blog.
The current car seat legislation
I believe the most confusing aspect of the current law is that there are two sets of legislation governing car seats in the UK.  The first is ECE R44 and the newer legislation is R129 otherwise known as 'I-size'.
You can buy a car seat under the older or the more recent legislation.  Therefore, you could have two children aged one, restrained in different seats, which would both be legal despite one child been considerably safer than the other.

One of the main differences between the two legislations is the requirement that children are rearward facing for longer under the I-size legislation.  This is because research has indicated that children are significantly safer rearward facing than forward facing.
In a front crash in a forward-facing seat, a baby's neck is subjected to a force equivalent to 300-320kg – that's about 47 stone of weight on a baby's neck.
A child's head is proportionally much larger and heavier than the rest of their body therefore, the stress on their head and neck in an accident while forward facing can cause life changing spinal and brain injuries.  When forward facing their heads are thrown forward in an accident.  When a child is rearward facing, the impact is spread across their back.  In addition, isofix seats leave less room for human error as most have visual indicators to reassure parents when the seat has been installed correctly.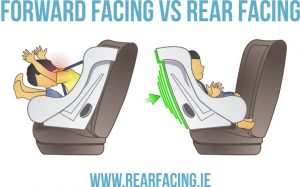 I-size seats are also tested for side impact therefore, they tend to have extra safety features such as memory foam which is really good at absorbing impact in an accident.
The older legislation allows forward facing travel from 9 months and 9kg.  It is therefore understandable that some parents believe the more expensive car seats offering extended rearward facing are just gadgets in the car seat market. Surely if the law says it is safe then it should be safe?
'The Swedish plus test is so tough that only rear facing car seats can pass it'

Sweden has a policy in place, referred to as 'Vision Zero', which envisions there being no fatalities in road traffic accidents.  Vision zero has raised awareness of road safety in general and has contributed to much safer standards in car seats.

In Sweden, it is the accepted norm that children should stay rearward facing in the car until they are four years old.  Professor Bertil Aldman noticed in the early 1960's that the Gemini mission astronauts were laying on their back in the opposite direction of acceleration.  This inspired a campaign of rearward facing travel that over the years, changed public opinion and made rearward facing car seats the norm for children under 4.
The Swedish plus test was introduced in 2009 as an optional test to encourage manufacturers to produce safer car seats.  By studying real accidents where children suffered severe injuries to their brain and spine, the type of injury we, unfortunately, see at Bolt Burdon Kemp, the test guarantees that a child will not be exposed to forces on their neck which would be life threatening during a collision.
This raises questions as to whether the UK government are doing enough to raise awareness of child car seat safety.  From my own experience, far too many parents are unaware of the dangers of incorrectly installing car seats.  I have seen parents choosing a car sear based on the colour rather than the safety features of the seat and I have even seen seat units from a pushchair being used as a car seat!  I highly doubt that any parent would intentionally put their child at risk in this way if they were fully aware of the dangers.  I believe the UK would benefit from a targeted campaign to raise awareness of car seat safety.
How to choose a safe seat for your child
My advice to parents, based on my experience of selling and fitting car seats and my work acting for children who suffer brain injuries in car accidents, is as follows:
Do your research; look at websites such as 'Which' who conduct independent crash tests on various seats
Place your child rearward facing until the age of 4, visit BeSafe for more information and FAQs
Consider investing in an 'I-size' seat which is tested more thoroughly
Visit your local borough car safety centre for expert advice.